Twilight of the Mortals is the newly published coffee-table book from PC-Press. This top quality production features the collection of the incredible work of photographer, confidant, and former post-punk DJ Mont Sherar and the result of his 36-years of love for the band; Killing Joke. This book documents the period since the original line up of the modern day band after reuniting in 2008 after the untimely death of bassist Paul Raven who had originally replaced Martin Glover (Youth) initially in mid-1982. This new era until most recent times is presented in a beautifully printed and designed book that comes in both soft and hardback formats, plus a special ltd., DELUXE COLLECTORS EDITION clothbound box set. The latter features extras such as a glicée fine-art print, as well as two 7″ singles on coloured vinyl in a gatefold sleeve designed by none other than legendary, Steven R. Gilmore. Each member is represented with their exclusive contribution to the book, and two of the tracks mark the debut pressing of solo recordings. These records are classic rarities at the get-go,  and a collectors dream by every definition — limited to 350 copies worldwide.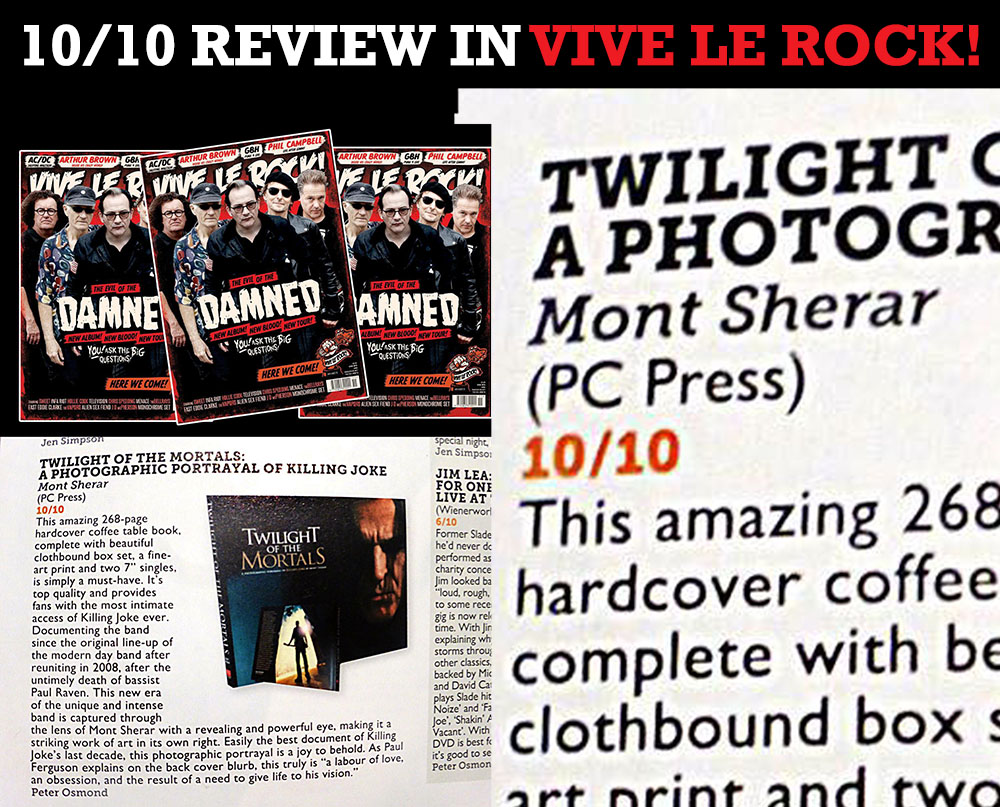 The coffee-table sized tome (24.5cm x 30.5cm x 27mm) presents more than 250 photos/260+ pages of both the group and it's individuals, all taken and processed by Sherar from his unique position as a 'fly on the wall' photographer with the band over a 7 year period — including the songwriting process of the album, 'Pylon.' Printed by Calverts of London on art papers and designed by PC-Press in association with Cactus Design, the book is a riot of colour, energy and intimate images of the band in many insightful and previously unseen settings. A must-have, Killing Joke-endorsed treasure.
SHOP OPEN AND READY FOR SHIPPING! 


NOTE: There are two separate packages for the Hardback Plus versions, and three separate packages for the Deluxe Collectors Edition.
(Note the posters come in a tube with the badges, the giclée prints flat-packed, and the book together with the vinyl)
See
See our video featuring the Deluxe Collectors Edition
VISIT OUR FACEBOOK PAGE!