Hi Mont, first of all, thank you very much for this opportunity. It's a great pleasure to introduce your work to our readers and to be the first to talk about your forthcoming autobiography, "Sex, WAX, n Rock n Roll," and Killing Joke book, "Twilight Of The Mortals!" Could we begin with TOTM, and could you tell us something more about what we can expect to see in the book?
Thanks to you and Ascension Magazine for your interest. The book "Twilight of the Mortals" is essentially my best photography work of the band Killing Joke in modern times, with the original lineup. Virtually all of it is captured from a highly unique perspective. A mix of both onstage and offstage subject matter, including never before seen non-musical aspects of some members such as drummer and cofounder, Big Paul Ferguson. The photos have a highly artistic approach in the way they are composed and presented in a book of first class print and design quality.
Beyond the imagery, I've gathered a brilliant team of literary artists who, in addition to my own insights, provide qualified observations about the subject matter throughout the book. In addition to legendary post-punk writer, author, and musician John Robb, we've also got Fletcher Stewart, Rahman Baloch, and Peter Webb all adding to the experience portrayed within.
Why did you choose to call the book "Twilight Of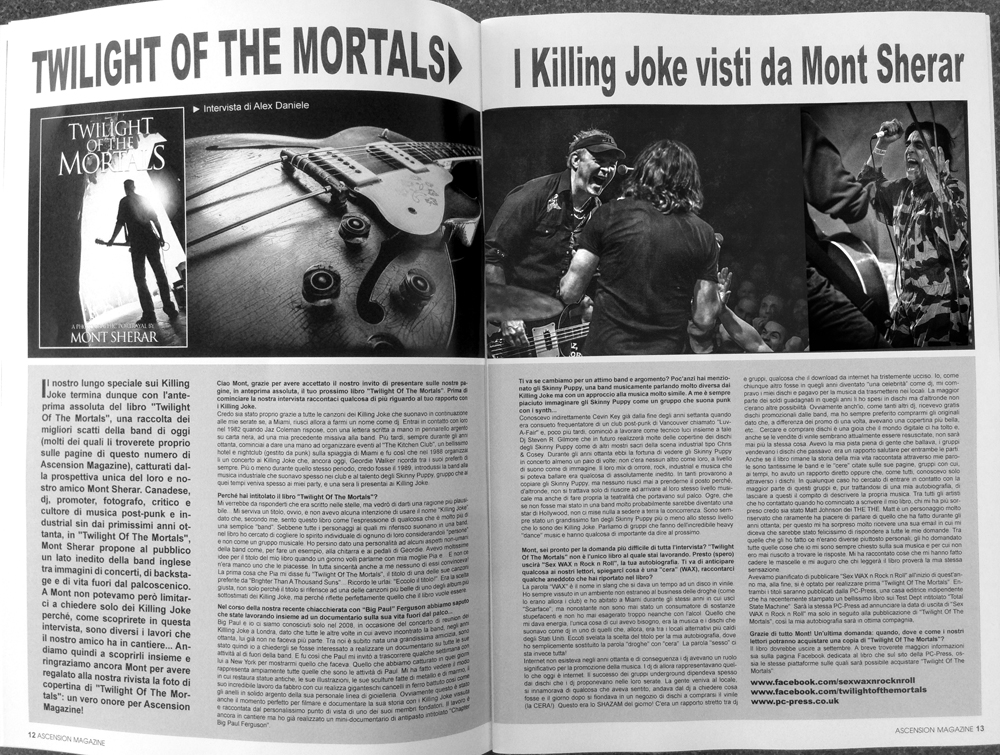 The Mortals"? Great song as well!
I would like to take credit for that beautiful title, but actually my wife Pia deserves the honours on that one.I needed a title of course, but did not want to simply use the name 'Killing Joke.'  For me, the book is expressing much more than just a 'band' and certainly not your typical concert photos below the band front stage center. Some of these photos are transcending, placing the viewer in positions rarely, if ever, witnessed. It is really more about the spirit of the individuals as people and not simply the band itself. I've even given 'personalities' to non-human aspects such as Geordies guitar and pedals. I asked Pia if she had any ideas that could say all this in but a few words. The first thing she suggested was, 'Twilight of the Mortals' (the 's' being added to the original song title from Brighter than a Thousand Suns).  "That's it!" I shouted. I knew right away this was the perfect title as it really does express perfectly, what the book is all about.
"Big Paul" and you both told me you are doing a documentary about "his other life"… Could you tell us something more about this project?
Big Paul and I met for the first time in 2008 at the bands reunion concert in London. I had met the other band members before during the 80s, but at that time, Paul had left the band. A close friendship ensued and I proposed the idea of producing a film based on his many activities both inside and outside the band. Paul invited me to New York for a few weeks and we covered a broad spectrum of amazing insights into his life. Things like the restoration of ancient statues, his own sculpture of both metal and marble, illustration, his blacksmithing of giant gates made of iron, and some incredibly cool fine jewelry made of solid silver. Naturally, this was also the perfect time to film, photograph, and document his own story behind the history of the band from his own perspective as cofounder, as well as both his drumming and songwriting techniques!
Some of these efforts are portrayed in the TOTM book as well as featured in the self-produced mini-documentary called, 'Chapter Big Paul Ferguson.'
Questions and answers about "Sex, WAX, n Rock n Roll" ….
When will they be out? How can we buy them?
Twilight of the Mortals has a target release date later this year. Sex, WAX n Rock n Roll is my life story, still a work in progress, but is the next one to be published.  Both will be available for purchase through the normal channels as well as direct on the Pc-Press website.
  Sex, WAX, n Rock n Roll Official Facebook page
Comment through Facebook